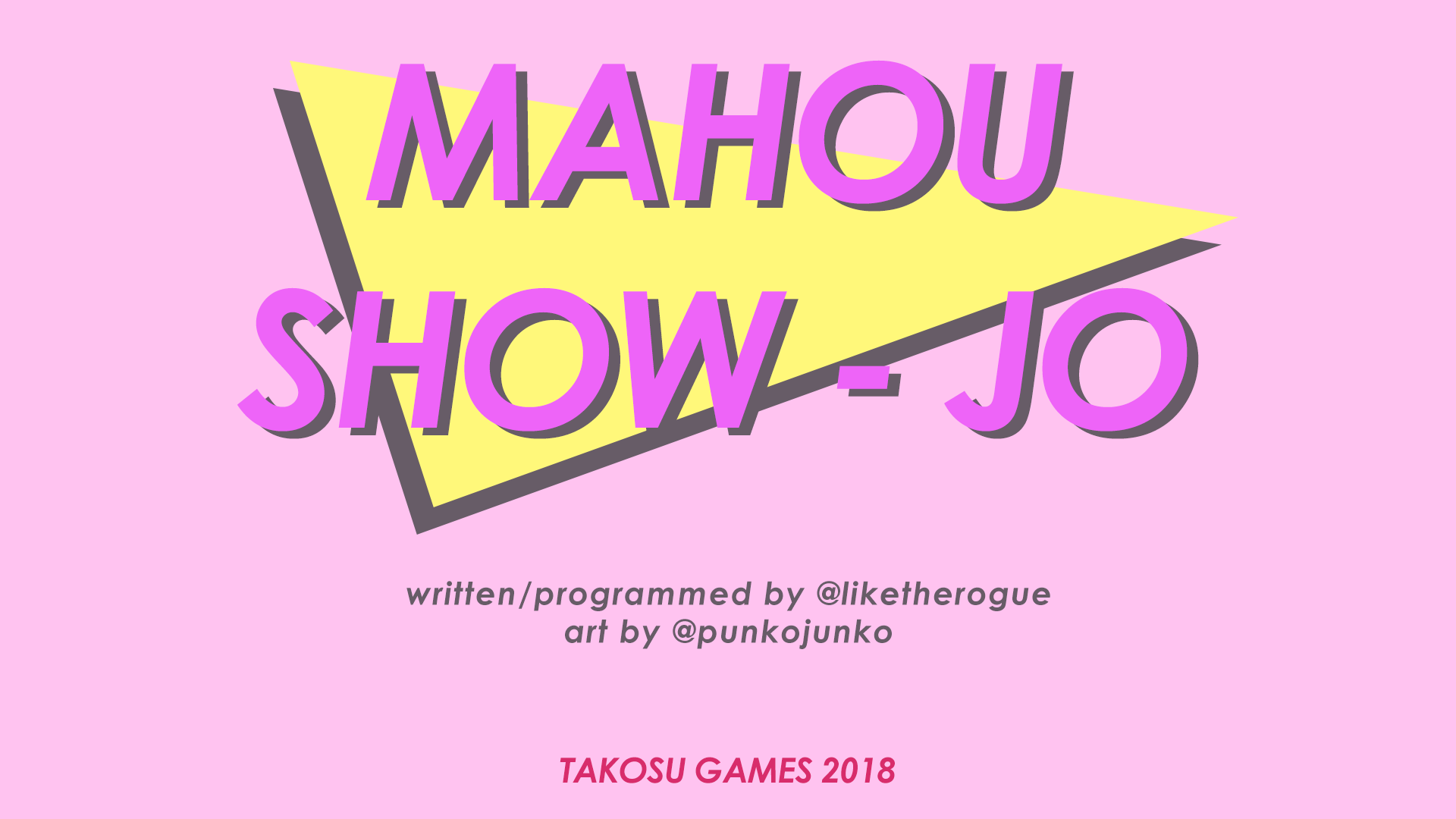 Mahou Show-Jo
A downloadable Seagull Feeder for Windows, macOS, and Linux
In Dub City, magical girls are the first line of defense and the most popular form of entertainment.
Joanna Jourdaine was once the most promising star on the scene. Seven years later, she's now working in a comfortable, if somewhat boring role as a technician for Magical Girls Inc. Although she's content with her life, now and then she finds herself wishing she was back on stage.
After all, headphones and an imaginary audience are no substitute for the real thing.
Credits:
Thanks to the gobbos for all the advice and support. Everything in this game (art, code, script) was made entirely in the span of two weeks.
Made for Ren'Py Jam 2018
| | |
| --- | --- |
| Status | Released |
| Platforms | Windows, macOS, Linux |
| Rating | |
| Author | Takosu Games |
| Genre | Visual Novel |
| Tags | aesthetic, Anime, future-funk, Lo-fi, Magic, moe, Music, pastel, vaporwave |
Download
Click download now to get access to the following files:
MahouShow-Jo-1.1-pc.zip
219 MB
MahouShow-Jo-1.1-mac.zip
203 MB
MahouShow-Jo-1.1-linux.tar.bz2
209 MB
Comments
Log in with itch.io to leave a comment.
I absolutely enjoyed the OST on this one!
Magic ways is the best
Glad you enjoyed it! The music was definitely one of our favorite parts of this (as you might be able to tell :v)
This is amongst my favourite Ren'Py games so far, i loved the tape player especially (though it has given me copyright headaches!!) I included it in my Ren'Py Jam Part 4 video, i hope you don't mind!
Thanks so much for the coverage! Sorry the tracks gave you copyright issues, don't know why that happened...
It was so great watching you play through the game and just get everything. Glad you enjoyed!
Hey, thanks for the message. It was totally my pleasure, thanks for making it and letting us play it. Its such a cool game, i loved the style of it and the walkman was a really clever idea and I loved your choice of songs which I left in, forget about the copyright issues!
Bug report: The game seems to crash not long into the first scene at the gym.
Error log:
I'm sorry, but an uncaught exception occurred.
While running game code:
File "game/script.rpy", line 3248, in script
jump postbranch
ScriptError: could not find label 'postbranch'.

(Liking the game so far, btw!)